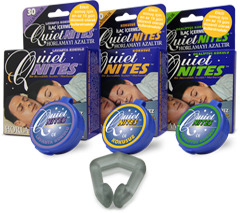 QUIET NITES - Snoring Aid
Finally a "Stop Snoring" Product that works
Our Quiet Nites® snoring aid promotes freer breathing by gently stimulating
the septum to open the nasal passages providing snoring relief.
Reusable, washable, comfortable and easy to apply.

"Try one for yourself and for someone you love"


- One size fits all - Made in USA

Restricted
nasal
passages
are a major
cause of
snoring.

Flexing
action
open the
nasal
passages.

Our snoring
aid easily
inserts into the
openings at the
base of the
nose.

Nasal
passages open
for freer
breathing and
reduced
snoring.
YOG Çampi
Champi is the original Ayurvedic art of Indian head massage that has been practiced for over 1000 years.

Champi massage improves blood circulation in the scalp and aids in the relief from headaches and tension to promote a relaxed, calm frame of mind.

Indulge in the deep, balancing, tension release of a Champi massage with YOG CHAMPI.